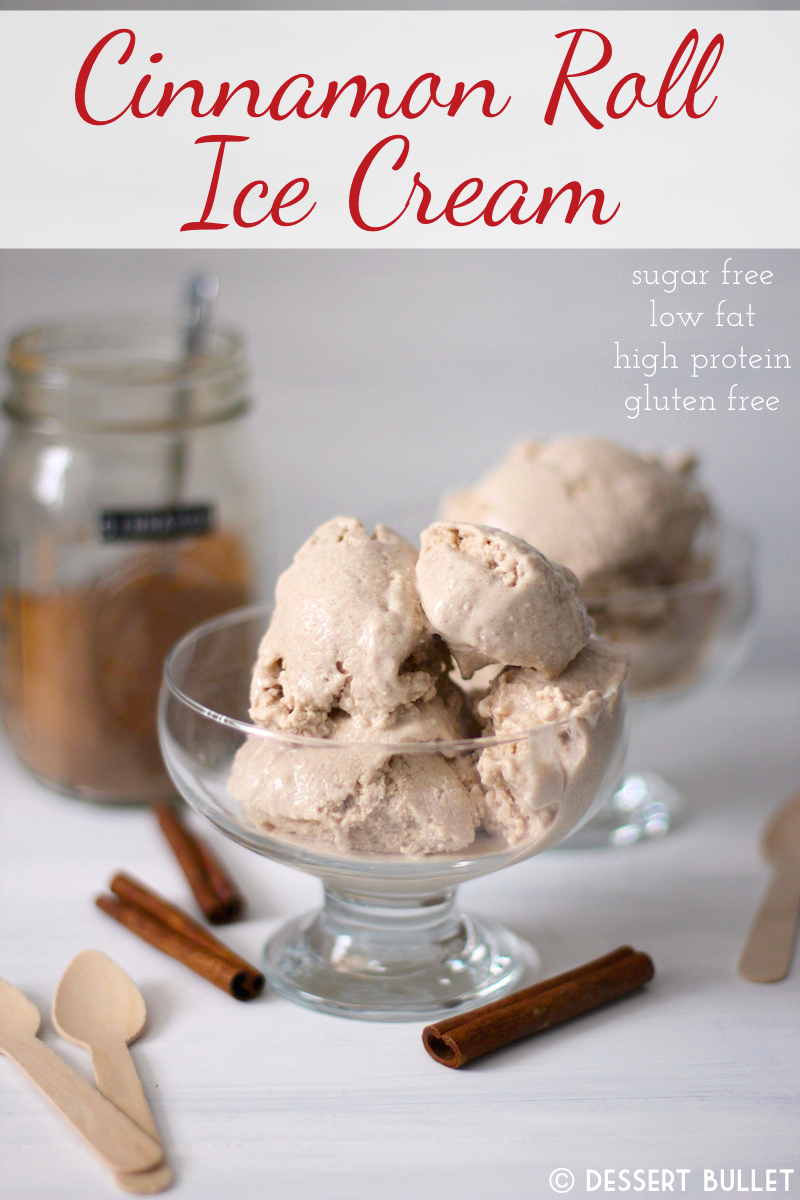 It's summer!! That means it's warm and it's most often humid outside… so what do people usually reach for when they're in the sun and hungry?
Something cold! Anything cold, really, like ice cream. Too bad ice cream is packed with a ton of unhealthy calories, fat and sugar. Not to mention, it's 100% addicting. Whether it's one cup, one pint or one quart, we always seem to find our way to the bottom of the carton without feeling full or satisfied one bit.
(Or at least I do!)
Don't worry though, that's where this Decadent Cinnamon Roll Ice Cream comes in! It's just as tasty as the store-bought stuff, except it's actually filling and good for you. You'd never know it's low calorie, low fat, sugar free, gluten free and high protein because it sure doesn't taste like it.
This ice cream has all the decadence of cinnamon rolls, all the flavor of creamy vanilla ice cream, and all the nutrition of a healthy, hearty breakfast. One bite and you'll think you're dreaming; it tastes so sinful, how could it possibly be healthy?!
But it is! Trust me, just look at the ingredient list. Not only that though, but the recipe requires only 6 ingredients and just a few minutes of your time. So whip out that Dessert Bullet and get ready for some seriously delicious ice cream!
Decadent Cinnamon Roll Ice Cream
Ingredients
1 cup plain, nonfat organic Greek yogurt
1 cup low fat, organic cottage cheese
½ cup unsweetened vanilla almond milk
1 tsp. vanilla flavored liquid stevia extract (I used SweetLeaf)
¼ cup sifted oat flour (gluten-free, if necessary)
1 tsp. ground cinnamon
Directions
In a medium-sized bowl, stir together the yogurt, cottage cheese, almond milk and stevia.
In a small bowl, whisk together the oat flour and cinnamon.
Add the dry ingredients to the wet ingredients and stir until the mixture is even and there are no clumps.
Scoop the mixture into an ice cube tray or silicone cube mold (silicone molds work best for easy cube removal). Freeze until solid.
Thaw the frozen cubes for about 20 minutes, then place them inside the Dessert Bullet chute.
Place a bowl under the Dessert Bullet spout, then turn the machine on. Gently press down on the plunger until the ice cream starts to come out. Feel free to run the ice cream through the machine again if it isn't 100% smooth the first time around.
Enjoy!
Yields 3 servings.
Calories per serving:  140
Fat per serving:  2.3g
Carbohydrates per serving:  12g
Protein per serving:  18g
Now just LOOK at that creamy goodness!
-Jessica Stier of Desserts with Benefits
Comments
comments